Welcome to Natures Walk Studio!
I'm so pleased to participate in Our World, Our Art, a blog
event that celebrates CREATIVE PASSION hosted by Lisa at
AWhimsicalBohemian
.
My name is Helen and
I am a mixed media artist and nature photographer from the Pacific Northwest.
The goal of my work is to convey the beauty found in the natural world and the human spirit, using uncomplicated topics and interesting textures. With so much of today's world creating stress, it's a small contribution to promote peace and restfulness.
I adore anything nature related. I have a special affinity for hearts and love finding them in nature...and I have a knack for seeing them in the most interesting places.
T
here are so many things in our natural world to admire... birds and butterflies, flowers and trees, forest critters! It's delightful to see as we walk the trails and also from the many visitors in our backyard wildlife habitat. The birds that come to our feeders keep us entertained daily.
Hummingbird at lavender
Besides photographing everything in sight, I do a variety of types mixed media art.
I love to create textured abstract landscapes using a variety of materials,... paints, fibers, buttons, lace.
Autumn Mountain 8x8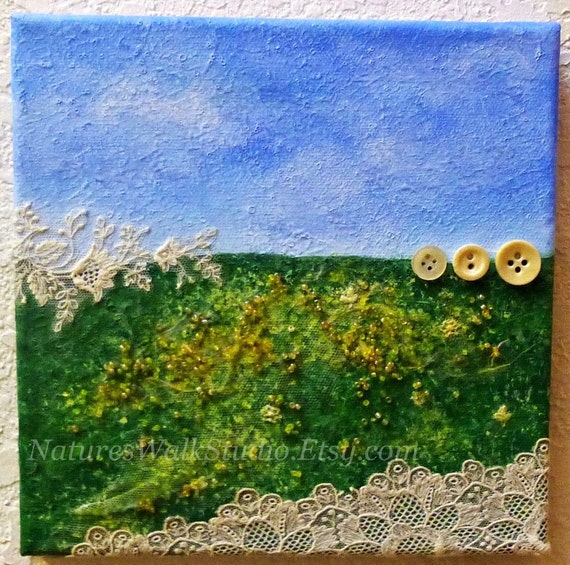 Field of Buttercups 8 x 8
I also create tiny 3 x 3 inspirational word art canvases... they make me happy!
One of my current favorite techniques
involves gesso and watercolor, which
I learned in a class by Carla Sonheim. Carla is a fabulous instructor, by the way, and I recommend her online courses. I've been blessed to have the opportunity to take classes from her in person as well.
Here's a couple of the gesso and watercolor pieces I've created recently:
Abstract Orange Flowers 8x10
Abstract Poppies 4x5
As part of OWOA, I'm hosting a giveaway! Yay for giveaways!
You have a change to win a set of Flower Garden Greeting cards with images from my gesso and watercolor paintings! You'll receive two of each design.
The giveaway is open to ALL ACTIVE bloggers worldwide.
Please l
eave a comment with a way for me to contact you should you win.
I will announce the winner at 5:00 pm Pacific Time on April 18th here on my blog, on Facebook and by email. You will have 3 days to respond with mailing address.
Thanks so much for stopping by to visit! I'll be by to visit you as well!